WELCOME
Come to Redwood Region Motorcycle Training for a great experience with positive, knowledgeable and friendly instructors.
Join the growing numbers of Californians who are discovering both the economic value and pleasure in riding a motorcycle. We offer quality instruction from award winning trainers so you can learn safe riding techniques and develop safety awareness on the roadways because "A Safe Ride is a Great Ride"!
Please read through all the information on our website using the links at the top, to get a thorough understanding of what we do, what to expect, where to go, basic class requirements and refund policy. Motorcycles and helmets provided.
We make it EASY to Sign Up - Simply choose a site and register.
WE PROVIDE
motorcycle icon
MOTORCYCLES
thumbs up icon
A POSITIVE ENVIRONMENT
smile icon
FREINDLY & SUPPORTIVE INSTRUCTORS
calendar icon
WEEKEND & MID-WEEK CLASSES
id card icon
COMPLETION CERTIFICATE*
*Successful completion of the course may waive the riding skills test at the California DMV
WHAT COURSE SHOULD I TAKE?
You must have the ability to ride a bicycle and be comfortable balancing on two wheels. Balance and hand coordination are essential skills for safe motorcycling. Students unable to balance on two wheels will be asked to leave and encouraged to practice on a bicycle for several months. They can return on a standby basis only. If it has been more than a year since you have ridden a two wheeled vehicle, please practice before coming to class. We can not teach you to ride if you can not easily balance on two wheels.
Motorcyclist Training Course
Training designed primarily for beginning and inexperienced riders.
Our Motorcyclist Training Course includes 6 hours of classroom and 10 hours of riding instruction. It covers everything from beginning to advanced riding skills. We provide the motorcycles and helmets. Successful completion of the course may waive the riding skills test at the California DMV and is now REQUIRED by the DMV for any rider under the age of 21 seeking their first California motorcycle license or permit.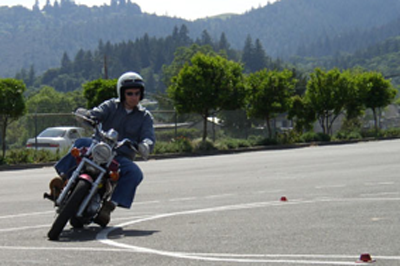 Intermediate Rider Course 2
Training designed for motorcyclists who wish to improve their riding experience. In this 8 hour course you will learn mental strategies for riding in traffic, understand advanced riding techniques, motorcycle handling characteristics and traction management. You will then practice these techniques on the range on your own motorcycle.
The Intermediate Rider Course DOES NOT bypass or waive any DMV licensing requirements. These classes are usually held in spring and fall, please call for more info.
Why should I learn from RRMT?
We offer you easy registration, award winning friendly and professional staff, and we're addicted to motorcycles... it's ok... we understand... we're here to help. The administrators of the training course are independent contractors providing services to the California Motorcyclist Safety Program.
Serving all of Northern California
SERVING THESE AREAS AND MORE
Sonoma County, Lake County, Mendocino County, Humboldt County, Napa County, Del Norte County, Siskiyou County, Shasta County, Trinity County.
Including the communities of Santa Rosa, Guerneville, Forestville, Sebastopol, Windsor, Healdsburg, Cloverdale, Hopland, Ukiah, Willits, Laytonville, Garberville, Eureka, Arcata, McKinleyville, Crescent City, Mendocino, Ft. Bragg, Lakeport, Clear Lake, Middletown, Kelseyville.
Frequently Asked Questions
What if I've never ridden before?
The Motorcyclist Training Course assumes you have no prior experienc. About 40% of our students have never ridden a motorcycle before, the rest have varying amounts of experience. However, you must have the ability to ride a bicycle prior to coming to class as the ability to balance on two wheels is absolutely necessary.
What if I haven't ridden in several years?
The Basic Rider Course provides a good refresher of riding strategies and a solid foundation of skills to help you re-enter the world of motorcycling with confidence.
What if it rains?
We will get wet, because we ride rain or shine. Bring rain gear, it helps. On rare occasion classes are rescheduled due to severe weather.
What if I don't pass?
You can retake necessary portions of the class one more time, on a standby basis. There is no extra charge. You will have up to six months to finish up class.
Can I bring my own motorcycle?
You may be able to bring your own motorcycle if it is 500cc's or less and meets a couple other requirements. It must be in safe riding condition and registered and insured. You must have your Motorcycle Permit to ride your own bike to class. You must get pre-approval to bring your own bike by calling us at 707-538-7768 or emailing us at RRMTemail@aol.com.
What if I'm very short/tall?
We have trained people from 4'-10" to 6'-8". If you are exceptionally tall or short, you may need to provide your own motorcycle.
Are gift certificates available?
Yes, Give the gift of safety, it shows you care.
Contact
Our Mailing Address
122 Calistoga Rd. #332, Santa Rosa, CA 95409-3702
Email Us
RRMTemail@aol.com
Call Us
707.538.RRMT (7768)